[ Basics ]
What is your name? Kelly

Where do you rest your head? Minneapolis

How old is your liver? 23

What is your gender? I'm a gal

How would you define your self? Vexed

Significant other? Yup, my weird old jazzman.

What is your shoe size? A dainty enough 7 and a half

[ Favorites ]

Color? Still can't help but like black

Bands? 16 Horsepower is thee fave, but I like jazz, garage rock (60s-80s, thank you), in fact lots of 60s music, soul, bossa nova, bachelor pad lounge, bluegrass, and alt-country the best.

Movies? Wings of Desire probably tops it. I'm a fan of a lot of old movies, foreign movies, and classic directors, like Fellini or Kurosawa.

Television Programs? Those darned likeable HBO shows, with the swears and the boobies.

Books? Nonfiction and poetry, mostly. Most recently finished: You Are a Dog.

Video game? Don't usually play em, but I quite like old school NES.

Cereal? Honey bunches of oats with dem dried strawberries.

Instrument? I play banjo and accordion.

Board game? Risk. I hustle it by being all, "Aw, I'm no good," get underestimated, and am inevitably crowned Empress of the Earth.

Pet? A very naughty beagle of my roommate's, who ate my glasses.

Song? A recent favorite: "There is a Time" by Dillard and Scruggs

Quote? "You're going to have to save yourself." -Charles Bukowski

Food? Raspberres

Beverage? mocha

Condiment? Italian dressing
[ In-depth ]


Convince us of your nerdly heritage:
Well, my grandpapy was one of the first folks in my state with a PhD in psychology. Nearly every adult on my Dad's side has a PhD. I myself will likely pursue one, after my post-bachechlor's degree effing off ends. I grew up around books and computers and Monty Python.


If I could grant you one wish, what would you wish for?
A cute little house. I'd move in and live in sin with my oldster.


What nerdly activities do you partake in?
Well, I read comic books like a fiend. Not too much into the Marvel-DC-Image stuff anymore, but I like all your typical independent and art comics stuff. Need more info, ask and I'll be happy to elaborate. I even make mini-comics. I play the banjo and the accordion, which is pretty nerdy. I hardly ever like anything in the contemporary pop media world, which either makes me a snob or a misanthrope or a hermit, or some combo perhaps.


A Star trek convention is coming to your town do you go?
I would make sure to hook up with someone dressed like Data.


Write an interesting solution to this mathmatical problem : 4+4=?
4+4=infinity turned on its head. You probably get that a lot, eh?


You see a cloaked stranger standing in the shadows of an alley. He offers you something,What is it, and how do you reply?
I'll only accept it if its illegal and/or obscene.


At a gaming convention, what would you dress up as and why?
A huge bottle of Mountain Dew.


Write a short, creative story about your plot for world conquest:
I'll sit back and dryly criticize everything. Of course everyone gets miffed and wants to win my rarely-granted approval, so they run about trying to bend themselves to my whim until I've manipulated everything just how I like it. Then all the hard work is done and I just take my rightful place as Supreme Ruler.


[ Pictures ]

Please, let us endure your nerdly visage.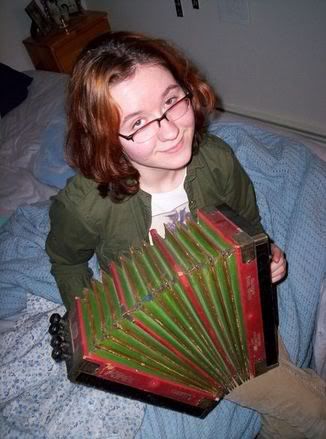 [ Your thoughts ]
Please provide us with a few of your own thoughts.
Guess I'd sure like to do it with Professor Snape. And Crispin Glover.